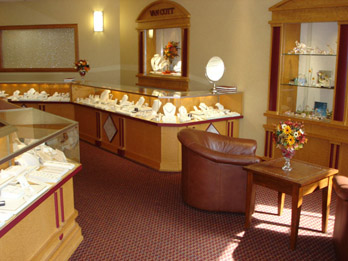 Van Cott Jewelers: A Historical Perspective
In 1905 Rubine (Ruby) Levine arrived in America! At age 15 he worked in a jewelry factory in NYC until World War I. When the Army honorably released him of his duty, his next journey was to Binghamton, NY. He established the Ruby Jewelry Co. His success resulted from his integrity and humanity as he diligently went door to door selling anything from wedding rings and religious items to eye glasses. With fluency in 8 languages, he catered to immigrant shoe workers employed by Endicott Johnson.
Herbert Levine, the second son of Rubine, began his career working in his father's store and then for Kay Jewelers in Rochester, NY. Later he would graduate from Syracuse University and serve as a Commanding officer in the US Coast Guard during the Korean War. It was not until 1953 that Herbert returned to the family business. This time, in the shadow of IBM, business prospered.
The Van Cott Jeweler, Ltd. Corporation was formed on July 1, 1969 when Herbert Levine purchased Binghamton's most prestigious jewelry store from Kenneth Van Cott, one of the earliest Gemologists in the U.S., as well as a leader in national jewelry organizations, including his advance to President of the American Gemological Society.
Like his predecessor Kenneth Van Cott, Herbert achieved national prominence. He became the President of the American Gem Society, the President of the New York State Jeweler's Association, and the President of the Jeweler's Educational Foundation. Additional awards included the Director of Jewelers of America, Jewelry Industry Council, Jeweler's Vigilance Committee and a member of the DeBeers Carat Club. Herbert was devoted to many community relationships which included the Binghamton Business Association, Temple Israel, Boy Scouts of America and the Board of Trustees of the United Way.
In 1979, William Levine, the third generation jeweler, entered the family business. Bill graduated from Syracuse University and the Gemological Institute of America (GIA) Santa Monica, California, specializing in the training of diamond grading to jewelers all over the world. Following in his father's footsteps, Bill was ready for his first job in the jewelry business in his Dad's store.
Birdie Rosen was a jewelry designer and manufacturer in Los Angeles. Fate brought Birdie to study gemology at the GIA in 1977. Birdie's dynamic personality and flare for beautiful jewelry design together with Bill's gemological knowledge was a timely connection for Van Cott Jewelers. Next, learning the Van Cott traditions and the guidelines for customer service was essential for their family business.
Today, Van Cott Jewelers exemplifies a full service retail store whose roots are from a time when the "little things" mattered. The lessons of those who came first, Ruby Levine, Kenneth Van Cott and Herbert Levine are still being practiced by Bill and Birdie. As the leading Jeweler in the Southern Tier of NY, "we" invite you to visit one of our two locations and to be part of history!
Bill and Birdie Levine and the Van Cott Gems!
Town Square Mall, Vestal, NY, and Oakdale Mall, Johnson City, NY.